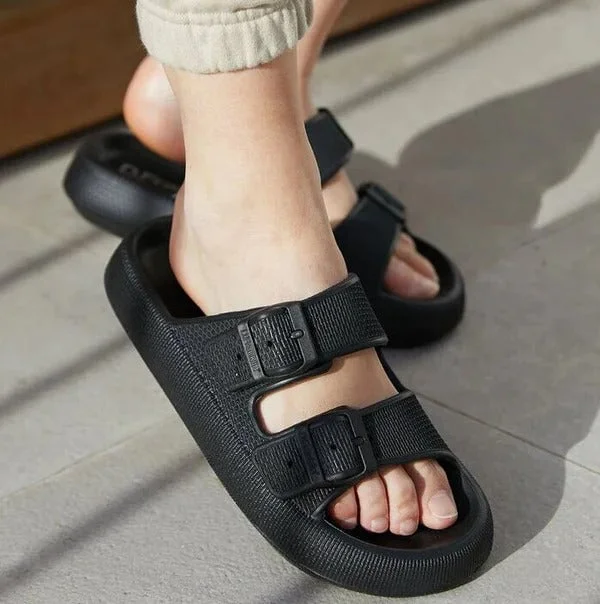 Designed with Comfort & Style in Mind
With a thick & soft material, adjustable straps & a cute design, the Cloud Sandals keep your feet happy & pain-free all day and look good with almost any outfit.

Whether you're lounging at home, running errands, or working 12-hour shifts, these will give you endless comfort & cloud-like strides.
---
Goodbye Pain, Hello Endless Comfort!
Build with a 4.5cm thick sole and a 15° angled toe-to-tail design, the Cloud Sandals reduces & balances pressure from your feet to your hips.

⦿ Gives instant relief to sore feet, heels, ankles, knees and hips.
Non-Slip
The Cloud increased support & comfort, plus a non-slip, textured sole to prevent you from slipping and falling.
⦿ Also provides a snug fit to avoid blistering & chafing.
Lightweight & Thick
Whilst the sole is super thick to ensure pillow-like comfort, they're also incredibly light. You won't even notice they're on!
Say goodbye to sweaty, uncomfortable feet! The Cloud Sandals's state-of-the-art breathable design allows for optimal air circulation, keeping your feet fresh and odor-free all day long.
Flexible And Lightweight
Enjoy the ultimate combination of comfort and flexibility with CushyCloud's lightweight design. Our slippers adapt to your foot's shape, allowing for a more natural and comfortable walking experience.
Wear-Resistant
Made with premium EVA material, The Cloud Sandals are built to last. Our wear-resistant technology ensures that your slippers stay looking and feeling great, no matter how much you wear them.
Join the Ultimate Comfort Club
Spoil yourself and discover happiness with each step you take in The Cloud Sandals!